.:: Welcome to Lando's Crib! ::.
"Why you slimy double-crossing no-good swindler, you got a lot a guts commin' here, after what you pulled."
---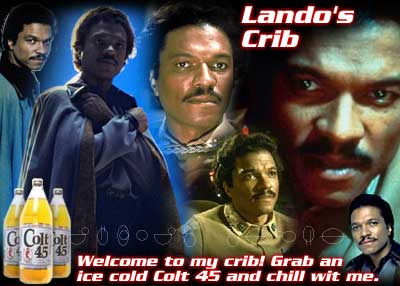 .:: Are You As Smooth As Lando? Like: ::.
Smooth Rob • Smooth Bryan • Smooth Eli • Smooth Paul • Smooth J.D.
Who else wants to be a "smoooooth" soul brotha? Send me an email for details!

---
.:: What Be The Hap's In Cloud City? ::.
[April 24, 2004]
Lando's Crib Got Cleaned Up!
Today I have launched a new version of Lando's Crib along with the redesign of The Order of the Sith Online! Stay tuned for more from Lando's Crib in the near future!


---

[June 27, 2002]
Lando's Crib Updated!


---

[June 7, 2002]
Billy Dee in Latest Entertainment Weekly
There's a nice article about Billy Dee Williams titled "Lando the Lost." A couple paragraphs about Star Wars:

"And, of course, the Force will always be with him. Williams was recently mobbed by Lando lovers at this past May's Star Wars convention in Indianapolis, where he calculates he signed upwards of 3,000 autographs.

'When George Lucas created Star Wars, it's like what those guys created when they wrote the Constitution,' he says with pride. 'I'm going to see Attack of the Clones this weekend. Lucas' executive assistant called to invite me [to the premiere], and I asked, 'How many tickets am I allowed? Can I get more than two?' And she said, 'However many you want, really, because your're part of the family.' He smiles. 'I really felt good about that.'"


---

[April 20-21, 2002]
Billy Dee Williams to appear at StarCon in Denver, CO!
Follow the link for more info!
[Star Land | www.starland.com]

---

[October 19, 2001]
New Smoothie Added
Today we welcomed Smooth J.D. into our ranks. Welcome to Lando's Crib!


---

[August 16, 2001]
New Smoothie Added
Today we welcomed Smooth Paul into our ranks. Welcome to Lando's Crib!


---

[July 11, 2001]
Lando's Crib Goes Live On The Internet!
Today is a day that will be long remembered. Lando's Crib was launched! Enjoy the smoothness!

---
.:: The Brotherhood Alliance ::.
Smooth Rob - Youth Pastor and Graphic Designer @ Large!
Smooth Paul - Funky white boy @ large!
Smooth J.D. - Jack Tripper @ large!
Smooth Bryan - School teacher and honorary hispanic @ large!
Smooth Eli - College student and musician @ large!
---
.:: Billy Dee's Smooth Quotes ::.
"There's always been a lot of misunderstanding about Lando's character. I used to pick up my daughter from elementary school and get into arguments with little children who would accuse me of betraying Han Solo."
- Billy Dee Williams
Star Wars Galaxy Magazine #4
---
.:: Let Me Know What's Up! ::.
Wazzzup brotha's and sista's of the galactic hood? Let a brother know what you think about this SMOOTH site by dropping me an email. Let me know what you like/dislike and what you would like to see on the site in the future. If you are interested in membership let me know and I'll tell you how to apply for smoothness. Also, you can help us get the word out about Lando by forwarding our URL to all your friends. Join Lando and together we can restore smoothness to the web. Word up!
---
.:: Colt 45 Disclaimer ::.
Our intension is not to encourage the consumption of alcoholic beverages by no means, but rather to identify with a living legend, the intergalactic godfather of funk, the man, the myth, the legend, the one that makes all the ladies say, "Oh, Billy Dee!" The man who kicked the 2nd Death Star's butt, Soul brotha numero uno, Lando Calrissian.
---